High Quality




Slide Scanning Services
We scan 35mm slides or smaller. Resolution is based on 35mm. Smaller slides will have black borders and will need to be cropped to a smaller resolution.
Prices include 18 megapixel scans (5184 by 3456 pixels), color correction, and burning to long lasting gold professional DVD disks. (CD disk is also available, but cd disks do not last as long and do not hold as many pictures. They are only recommended if your computer cannot read DVD disks.)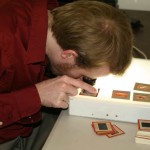 These disks are not playable as a movie on your DVD player. (Some DVD players do have the capability to create a slide show from these picture files but that is determined by your player.) They require a computer to read them. Files are .jpg format. .raw format is also available for additional cost but is not recommended unless you are used to working with .raw files and know how to manipulate them.
Take advantage of our Current Special now through Jul 04, 2017. For this limited time pay just $0.60 to $0.40 per 35mm slide depending on quantity.
That's our lowest price ever and it won't last long. (Minimum order $100.00 for this price. Please call for pricing for smaller orders)
We use only professional Gold Archival DVD disks for top of the line performance and longevity.
Call us now at (888) 405-2685 for a free estimate or more information.