We Convert Every
Commercial Video Format
Whether you want simple copies from tape to DVD or an external hard drive for custom editing, we can help. We provide videotape transfers at higher quality and lower prices than the competition.  
Don't buy a box that may hold more videos than you have. Instead, pay only for the videotapes you have. We will skip any tapes that turn out to be blank or TV so you'll only pay for valuable family memories.
For pricing, please use our "Free Estimate" calculator below.  This will also tell you how large a flash drive you'll need (unless you want DVDs).  Notice that the drive space you'll need with us will be about 5 times larger than with our competition.  That's because
we believe
in quality over compression.
We work with videotapes of all kinds. We convert VHS, Super VHS, Compact VHS (VHS-C), 8 mm, Hi8, Digital 8, MiniDV and DVCAM.
We only use professional-grade recording equipment. We also use professional gold archival DVD disks. These disks are the longest-lasting, best performing disks in existence. When you want your recordings to last, insist on gold layer disks.
Now through Dec 14, 2023, take advantage of our Current Special. For this limited time, the price of videotape transfer is the same as our bulk rate - just $19.95 /tape. A $50.00 minimum order applies.
* Most video tapes have a maximum playing time capacity of 2 hours.  Additional charges will apply for any tapes that run longer.  Call for more information.
** We can only convert home made tapes. We cannot convert Copyrighted material. We cannot convert production movies or things you recorded on TV.
Call us now at (888) 405-2685 for a free estimate or more information.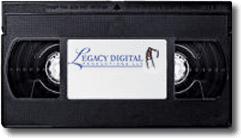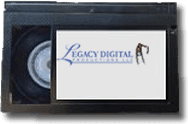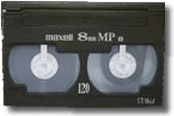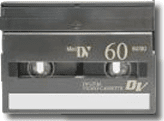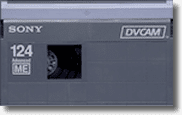 SUPER 8 is a registreed trademark of Super 8 Worldwide, Inc.  Legacy Digital Productions provides video tape transfer service for video tapes that use the Super 8 format.
Legacy Digital - Trusted by:
Along with executives and professionals from: CBS, ABC, Universal, Disney Animation, Paramount, Sony, Redbox, Audiohead (sound engineers of Star Trek Into Darkness), Lightstorm Entertainment (makers of Avatar), Atlas Entertainment (makers of Batman v Superman: Dawn of Justice) and many more.
Legacy Digital did a fabulous job of getting our old family films and slides on dvd for my parents' anniversary. The quality was amazing and my parents were so surprised. Scott was so helpful picking up and delivering our order saving us time and gas money and keeping our family treasures safe from the mail. I definitely would recommend them to anyone and in fact am calling them again to do all of our VHS tapes and camcorder tapes next. Jennifer L. - Long Beach, CA See More Client Comments >>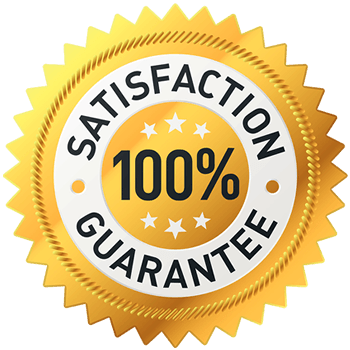 Our 100% Satisfaction Guarantee
"We are not finished until you love it. We will do everything within our technological capabilities using our state-of-the-art equipment to create the highest quality video and image captures possible. With that said, there is only so much that we can do with some older and heavily degraded media. We can assure you though, we will give you as good or better product than anyone else in the marketplace…And if someone else can produce a visibly better product, one which is noticeably more colorful and clear, we will refund your money.
- Scott Foster, Founder